Thanks for printing! Don't forget to come back to In His Image for fresh articles!
Far Infrared Sauna Therapy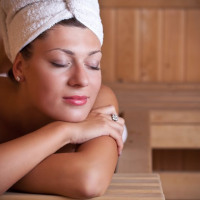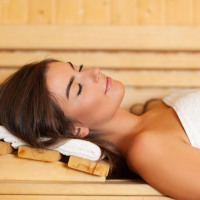 With the help of our far infrared sauna, you can improve your well-being via whole-body detoxification.
For years, toxic chemicals have accumulated in your body. Arsenic, formaldehyde, mercury, lead – under normal conditions, these harmful toxins are with you all the time, but far infrared sauna treatment can remove them.
Thanks to sauna treatment, you literally sweat these toxins away from your body. Solocarbon far infrared therapy penetrates joints, muscles, and tissues, increasing oxygen flow and circulation. As a result, you purify cells throughout your body, increase vitality, resist disease, and improve lifelong health!
At In HIS Image, we offer far infrared sauna therapy at our Marietta location.
*Save when you combine far infrared sauna therapy with our spa and body enrichment services!
Far Infrared Sauna Technology
Our far infrared sauna uses solocarbon heaters. This technology is safe and will never cause your skin to burn. The sauna is also 100% warm heat – no steam!

Far Infrared Sauna
Our full infrared sauna at the In HIS Image Marietta location
Frequently Asked Questions
Is far infrared heat safe?
Far infrared heat is so safe, it's what they use in hospitals to warm newborn infants. We always provide sauna treatment in a safe, controlled environment. Before you step into the sauna, we ensure you are properly hydrated and 100% ready for the treatment.
Will sauna treatments help me lose weight?
Because the heat from a sauna increases circulation, your body has to "work harder." As a result, you burn extra calories and shed extra pounds!
What conditions does sauna treatment address?
The most common conditions include:
Allergies
Anxiety
Depression
Headaches
Low blood sugar
Digestive disorders
Arthritis
Asthma
Chronic infections
Heart disease
High cholesterol
Obesity
Immune system problems
Chronic fatigue syndrome
Fibromyalgia
Environmental illnesses and chemical sensitivities