Thanks for printing! Don't forget to come back to In His Image for fresh articles!
Laser Tattoo Removal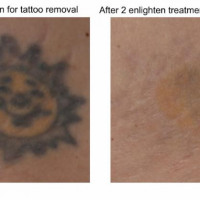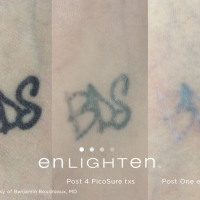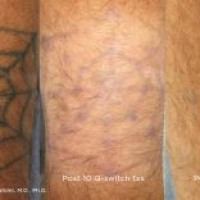 Do you have any unwanted tattoos? Remove your tattoo here with no scarring, and it will appear as if you never had a tattoo with our tattoo removal skills. If you want a clean canvas for more tat art, laser tattoo lightenin working with tattoo artists, is a specialty of ours.
When people search for "laser tattoo removal near me," we are the go-to for tattoo removal near or far, because even when we might be several hours away or even a few states away, people find us for our quality of work and extra care with tattoo removal and they drive the distance.
We understand why you might be considering tattoo removal. Around a quarter of American adults have a tattoo, but your body art might not meet your needs forever. Also for certain careers such as the military, tattoo art may need to be removed. When it's time for tattoo removal, laser technology offers an effective solution for all skin types. We offer affordable tattoo laser removal that is safe.
Training on ALL of the latest in Lasers for tat removal: the Picosure, Picoway, Picosecond, Cutera Enlighten, Astanza-Trinity and the Quanta, we then could make the best selection for you and your Laser Tattoo Removal. Educated on tattoo removal cream and other types of tattoo removal as well, we know the best tattoo removal lies in our picosure laser tattoo removal, with our Cutera Enlighten 3 wavelenghts, operating in nanosecond plus picosecond, covering the best of the past and the very latest in tattoo laser removal technology, too, which is exactly what makes us the leading experts in the Southeast.
At your Free consultation, we will be looking at colors in your tattoo, age of your tattoo and varying factors to pick the wavelength or wavelengths needed for your tattoo removal and from that either a Ruby, Nd:YAG, and/or an Alexandrite laser will be utilized.
Utilizing the R20 method, we led the way with this technique for our patients in the Atlanta area. And, now we lead the way with the Enlighen Picosure Laser, being one of the only places in Georgia with this new tattoo removal laser technology.
Pricing
We base tattoo removal packages on the size of the tattoo you want to remove. Prices reflect small, medium and large tattoos, and we offer discounts for multiple tattoos treated at the same time and for packages of laser tattoo removal sessions. Again, we strive to save you money and keep your tattoo removal cost to a minimum.
With sessions as low as $300, you can take the first step toward removing that unwanted tattoo right away. We tell you the price during your free consultation, so you know exactly what you will pay before making a decision, and with experience doing this for years our estimates for number of treatments required are usually accurate,too, so accurate we have a Guarantee of Treat to Complete Offer since adding Enlighten 3.
*Now Offering FREE LASER TATTOO REMOVAL for TATTOO ARTISTS! We love to help and to serve and in that spirit, if we could help a tattoo artist remove a tattoo to open up more free canvas, or remove a part of a tattoo, we would love to help and in doing so demonstrate to you the amazing technology now available with the Enlighten Picosure Laser.
*Discounts Always for Active Military and Veterans as our way of saying Thank You for all you give for us to maintain our freedom.
Special Offers
Tat B Gone Package Special with Our Treat to Complete Removal Guarantee!
Buy a Package of 4 tattoo removal treatments and receive an Extra Laser Tattoo Removal Treatment FREE. Great Savings in addition to our Affordable Prices
The Latest, Most Effective Technology
In His Image Med Spa uses the Cutera Enlighten Picosecond and Nanosecond laser system. Thanks to this cutting edge system, we can remove tattoo ink of any color. Only minimal after-care is required. And with the newest technology of our Picosure laser, the Enlighten, we now can offer faster tattoo removal as well as less pain.

Cutera Enlighten Three Wavelength
The Latest in Laser Tattoo Removal Technology firing in both Picosecond and Nanosecond with 3 wavelengths. Dr. Holland just purchased in June, 2017, as she has been researching technology and this FDA Approved Enlighten picosure laser is the best currently on the market to remove All Colors.
Frequently Asked Questions
HOW DOES LASER TATTOO REMOVAL WORK?
Tattoos are removed by lasers that emit short pulses of intense light that pass through the top layers of the skin to where the ink is located. The light breaks the ink into tiny, dust-like particles that are readily absorbed by your body, and eliminated through its natural processes.
HOW MANY TREATMENTS WILL IT TAKE?
Most tattoos require several treatments for effective removal, depending on a number of different factors including your age, your tattoo's age and location, quality of ink, ink colors, your skin color, location of your tattoo and overall health. On average, a patient will need between 3 and 6 treatments for complete removal of all ink colors.
HOW MUCH DOES LASER TATTOO REMOVAL COST?
The cost of removing a tattoo is dependent upon several factors such as the size of the tattoo, how much ink there is, age of tattoo and type of ink. The pricing starts at $300 however to get an accurate estimate of what it will cost for complete removal we recommend coming in for a consultation.
WHY IS THE ENLIGHTEN LASER THE BEST FOR TATTOO REMOVAL?
During the procedure, most report the pain level to be equivalent to the pain they felt when the tattoo was placed on their skin. It feels a lot like a rubber band snapping the skin with each laser pulse. After the laser tattoo removal procedure, most will experience swelling in the area, reddening of the skin, and a blister will typically form. All of these side effects are temporary and will resolve and heal completely. You will be bandaged in the area after the procedure and complete home care directions will be given. Also, we encourage everyone to call us with any questions or concerns that may ever come up after a procedure as we are here for you ongoing not just for the time you are being treated with the laser. And our laser specialist takes the extra time with every client to answer any questions and always promptly returns all phone calls. With a caring, compassionate Medical Director and knowledgeable, attentive State Certified Laser Specialist Expert, you will be taken care of from the time you first contact In HIS Image. Committed to our patients from the beginning, we will work to make this as comfortable for you as possible. As one client said who had googled for "laser tattoo removal near me" from his small hometown in a remote area of Mississippi, it is worth the drive to have excellent care from well respected, experienced professionals who go the extra mile. He laughingly said "I drive the extra miles for those who go the extra mile in my laser tat removal care with minimal pain and no down time."
IS THERE ANY DOWNTIME ASSOCIATED WITH THE TREATMENT?
Although you may experience mild redness and swelling for a few hours following the treatment, you can expect to return to your regular activities.