Thanks for printing! Don't forget to come back to Georgia MedSpa for fresh articles!
Light Box Therapy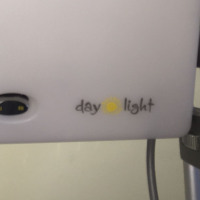 If you feel down, depressed, or increasingly anxious during the dark, winter months, you might be suffering from seasonal affective disorder (SAD). Light box therapy can lift your spirits, reduce stress, and liberate your mind from seasonal despair!
At Georgia Med Spa, we provide light box therapy to patients suffering from SAD and other conditions for which simulated sunlight is an effective treatment. Sitting in front of our light box has a positive effect on brain chemistry, improving your mood and increasing energy levels.
Light is as essential to your life as air, food, and water. It's intensity matters, too, which is why many of us who spend many hours indoors can suffer from a dearth of natural light during the winter.
If you're suffering from SAD or just need to ease the Winter Blues, light box therapy is the answer!
Our Equipment
Our light box emits 10,000 Lux, which is the level of illumination you experience on a clear, spring morning. Thanks to full spectrum bulbs, light box therapy mimics what you experience outdoors – a far cry from standard indoor incandescent or fluorescent lights!
Technology

Our Light Box
Georgia Med Spa light box therapy equipment
Frequently Asked Questions
Do I need a formal diagnosis to receive light box therapy?
Dr. Amy Holland can provide a medical evaluation to determine whether you're suffering from SAD or another condition for which light box therapy will be effective.
How long do treatments last?
Light box therapy treatments usually last between 20 and 30 minutes. We recommend receiving treatment several times per week during the most "light deprived" months of the year.
Does light box therapy treat conditions besides SAD?
Yes! Light box therapy can effectively treat the following conditions:
Non-seasonal depression

Circadian sleep disorders

PMS and antepartum blues

Jet lag/shift work adjustments

​

Some types of dementia