Thanks for printing! Don't forget to come back to In His Image for fresh articles!
Reiki Therapy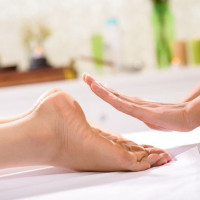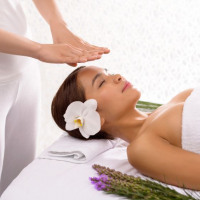 Reiki is a natural, hands-on therapy that promotes physical healing and emotional wellbeing.* It is a safe, holistic treatment that supplements modern medical protocol.
Reiki is also an American Medical Association (AMA) approved practice that is rapidly becoming part of standard patient care in American hospitals. Its practice was approved for Hawaiian hospitals as early as 1974! Fully trained in hands-on Reiki, Dr. Amy Holland and Dana Martin perform this life-changing healing technique.
During a Reiki session, a therapist uses touch to channel positive energy into your body, helping with the restoration of physical health, increasing psychological wellbeing, and reducing pain sensations. At In HIS Image, we believe that the methods and outcomes of Reiki therapy echo biblical accounts of healing. Though not connected to any particular religion, Reiki has the potential to dramatically improve spiritual health.
We now offer Reiki therapy for people and animals. Almost anyone can benefit from this powerful, holistic healing technique!*
We will discuss pricing during your free consultation.
*Individual results may vary
Frequently Asked Questions
How does Reiki work?
Reiki is a form of "energy medicine." A therapist places his or her hands on or just above a patient's body and channels an invisible flow of energy into the patient. This process promotes a healing experience and improves your mind-body connection.
What conditions does Reiki treat?
Reiki can ease the effects of illnesses, physical discomfort, stress, postoperative pain, and the negative consequences of using some medications.
Do you have formal training?
Dr. Amy Holland, Dana Martin, and Brad Martin have all obtained second degree Reiki training. They trained in the Usui System of Reiki in Hawaii, which is where Reiki first became known to the Western world.
Where do you offer Reiki?
We offer Reiki at our Marietta location and occasionally we have been asked to go to retreats to provide services, too.