Thanks for printing! Don't forget to come back to Georgia MedSpa for fresh articles!
mPulse Believe Sauna Treatment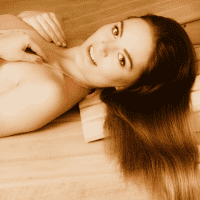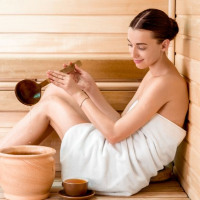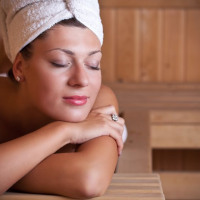 Step into our Sunlighten mPulse bELIEVE infrared sauna, and let your sweat carry toxins away from your body! You can enjoy sauna therapy at all 3 infrared wavelengths.
Near-infrared improves cellular health and rejuvenates your skin. Mid-infrared reduces pain and helps with weight loss. Far-infrared detoxifies and reduces blood pressure. Not only will you feel better – you'll also improve your long-term health and well-being.
Sauna therapy is a safe, natural way to manage pain, purify your skin, and improve whole-body health. And if you're trying to lose weight, it can help you shed those pounds, too!
Our sauna treatments are effective for a wide range of conditions. When you spend time in our mPulse bELIEVE infrared sauna, you literally sweat toxins from your body, all the while enjoying relief from conditions like arthritis, chronic pain, headaches, and fibromyalgia.
*Save when you combine sauna treatment with other mind and body enrichment services! With the mPulse bELIEVE sauna, Georgia Med Spa also provides chromotherapy and So Sound therapy.
Our Sauna Technology
We offer a new, state-of-the-art mPulse bELIEVE sauna from Sunlighten. This sauna, which comfortably seats 2, offers full-spectrum infrared treatments and includes 7 wellness programs targeting goals like detoxification, relaxation, weight loss, and skin health.
Technology

Sunlighten mPulse Believe Sauna
Our full-spectrum infrared sauna
Frequently Asked Questions
Are sauna treatments safe?
Our staff ensures that your sauna treatment occurs in a safe, controlled environment. Before patients enter the sauna, we ensure they are properly hydrated and don't have medical conditions that could conflict with the treatment.
Will sauna treatments help me lose weight?
Yes! The mPulse bELIEVE increases circulation, forcing your body to "work harder" and burn more calories. Weight loss is just one of many effects of sauna treatment.
What conditions does sauna treatment address?
The most common conditions include:
Allergies

Anxiety

Depression

Headaches

Low blood sugar

Digestive disorders

Arthritis

Asthma

Chronic infections

Heart disease

High cholesterol

Obesity

Immune system problems

Chronic fatigue syndrome

Fibromyalgia

Environmental illnesses and chemical sensitivities