Thanks for printing! Don't forget to come back to Georgia MedSpa for fresh articles!
So Sound Therapy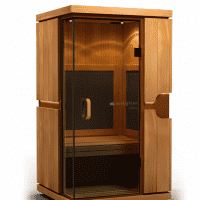 So Sound acoustic resonance therapy allows you to hear and feel music in a way that improves spiritual, emotional, and mental health. It also enables systems throughout your body to improve functioning in harmony, stimulating endorphins that help ease anxiety and help with promotion of well-being. At Georgia Med Spa, you can enjoy acoustic resonance therapy in our Sunlighten Sauna.
So Sound therapy represents the very best of music's healing power. At Georgia Med Spa, our So Sound acoustic resonance treatments help promote alertness, concentration, serenity, and calm – exactly what you need to reduce anxiety and help you to find peace.
NASA researchers have found evidence that consistent exposure to vibration, such as what one experiences with acoustic resonance therapy, can even reduce bone loss. The healing potential of So Sound is extraordinary!
Changes in the music influence your breathing and heart rate, activating the relaxation response. As a result, you can counteract – or reduce -the onslaught of chronic stress. You'll also help to boost the power of your immune system, reducing the threat of disease. *
*Individual results may vary.
Pricing
*Save when you combine So Sound therapy with other mind and body enrichment therapies! With the mPulse bELIEVE sauna, Georgia Med Spa also provides full spectrum infrared sauna treatment and chromotherapy.
Our MPulse Believe Sauna
At Georgia Med Spa, we offer a new, state-of-the-art mPulse bELIEVE sauna from Sunlighten. So Sound therapy happens inside the sauna – you'll enjoy the power of acoustic resonance help while detoxification process begun from the sauna's infrared heat!

Sunlighten mPulse bELIEVE Sauna
Our full-spectrum infrared, So Sound therapy sauna.
Frequently Asked Questions
How can So Sound therapy help me?
When you hear and feel the power of So Sound, you begin to develop an intense awareness of the state of your body and mind. Relaxation and serenity soon ensue, reducing anxiety and increasing the immune system strength are 2 possible results.
So Sound is particularly beneficial to patients with diagnosed post-traumatic stress disorder (PTSD). Substantial research indicates that acoustic resonance has a profound calming effect, easing the mind and drastically reducing the symptoms of PTSD.*
*Individual results may vary.
What kind of music can I listen to?
Per Sunlighten, we recommend music that takes advantage of the mPulse bELIEVE sauna's acoustics. Thanks to specially designed acoustic features, the infrared sauna enables you to feel the music, not just listen to it. That being said, we can provide music for your So Sound therapy.
What conditions respond to So Sound treatment?
We use So Sound therapy to help with the following conditions:
Chronic stress

Anxiety

Depression

Headaches

Chronic infections

Heart disease

Immune system problems

Chronic fatigue syndrome

​

Post-traumatic stress disorder